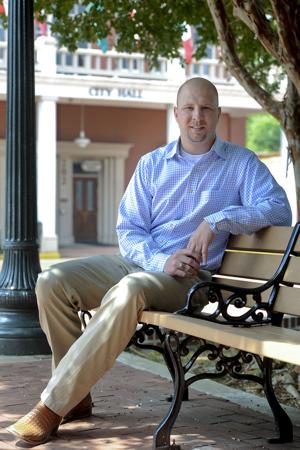 Stephen Pearl – City Human Resources Director
Stephen Pearl poses on Thursday on the Plaza stage across from Nacogdoches City Hall. A 2010 graduate of Stephen F. Austin State University with degrees in public administration and criminal justice, he is the city's new human resources director.
Here is a closer look at Stephen Pearl:

If you could move anywhere on earth, where would it be? It would be hard for me to leave the great state of Texas, but I would love to live on the beach somewhere in the Caribbean.
If you had $1 million, what would you do with the money? I would pay off anything that I owed, get new vehicles, get a new bass boat, share some money with my family and invest the rest.
What is your biggest fear? I'm not sure. It is probably to not be able to bass fish and enjoy a peaceful day on the lake.
What is the best compliment you have ever received? That I am dependable, and someone who can always be counted on.
What would you like people to know about you? My favorite vacation spot is the beach. I like collecting coins and meeting new people, and my favorite hobby is bass fishing.
What do you like most about Nacogdoches? Nacogdoches is a great town. I really enjoy the history, friendly atmosphere and landscape.
What is one item scientists should invent? Human teleportation.
What is the last movie you saw? The last movie I saw at the movie theater was "Lone Survivor."
What is your favorite music genre? I enjoy a wide variety of music, but if I had to pick my favorite I would pick country.
Do you have any pets? I have no pets but would like to get a dog soon.
What do you like to do in your free time? I really enjoy being outdoors, fishing and playing sports.
Posted: Sunday, August 10, 2014 11:30 pm
Former city intern returns as human resources director
By Paul Bryant
pbryant@dailysentinel.com
The Daily Sentinel
The lure of Nacogdoches was too much for Stephen Pearl to ignore.
"I came here for the opportunity," he said. "It's a much bigger city. Nacogdoches is a wonderful place, and I loved being here when I was in college. I am excited to be back."
Posted in
Local
on

Sunday, August 10, 2014 11:30 pm.
Source Article from http://dailysentinel.com/news/local/article_8efcf4c2-20e8-11e4-a5cc-0019bb2963f4.html
Former city intern returns as human resources director
http://dailysentinel.com/news/local/article_8efcf4c2-20e8-11e4-a5cc-0019bb2963f4.html
http://news.search.yahoo.com/news/rss?p=human%20resources
human resources – Yahoo News Search Results
human resources – Yahoo News Search Results